With the holiday's fast approaching its only right we get our parties & family events ready for some good food & cocktails.
Our Cocktail today is COQUITO aka Puerto Rican Egg Nog. This is a Puerto Rican staple just in time for the holiday season! Mixed with your favorite rum or alcoholic beverages, this drink can surely turn a dull holiday party into a great time!
Please Drink Responsibly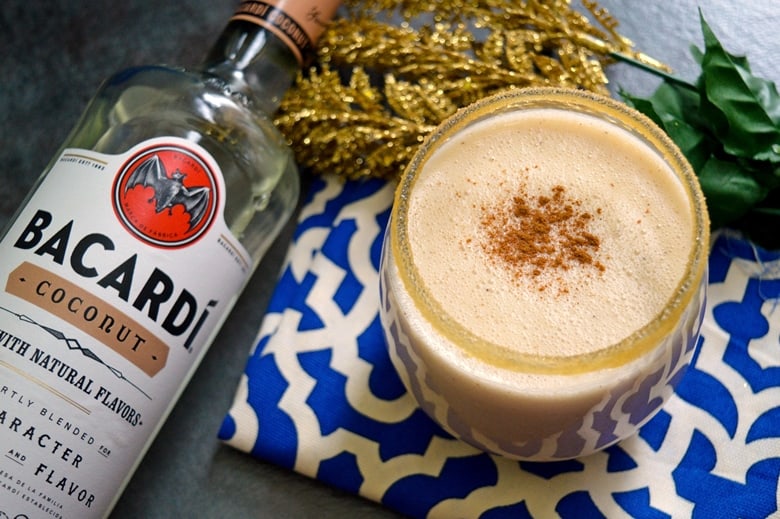 This simple & tasty Coquito recipe is a Puerto Rican tradition that is loaded with coconut, rum and cinnamon for an extra thick and creamy coconut eggnog!
PREP TIME: 20 minutes
COOK TIME: 5 hours
TOTAL TIME: 5 hours 20 minutes
INGREDIENTS
4 oz raisins
1 1/2 cups dark rum
2 cinnamon sticks
1 (14 oz) can sweetened condensed milk
1 (15 oz) can cream of coconut (Coco Lopez)
1 (13.5 oz) can coconut milk
4 oz evaporated milk
1/2 teaspoon nutmeg
1/2 teaspoon ground cinnamon
1/2 teaspoon vanilla extract
4 tablespoons shredded coconut, optional
INSTRUCTIONS
In a large pitcher with a lid (or two large jars with lids – this will make about 56 oz of liquid) add raisins, dark rum and cinnamon sticks. Let sit for 1 hour.
In a blender, puree all the other ingredients. Pour into the bottle and shake well to combine with rum/raisins mixture.
Chill for at least 4 hours & store in an airtight container in a refrigerator for up a month..
Must shake vigorously before pouring.
NOTES: recipe note: cream of coconut is commonly made by Goya or Coco Lopez. It is a very thick, sweetened coconut milk with chunks of shredded coconut in it. This is not the same as coconut cream that only has coconut listed on the ingredients.
NUTRITION INFORMATION:
YIELD: 12 servings
SERVING SIZE: 1 serving

Amount Per Serving:
CALORIES: 218
TOTAL FAT: 12g
SATURATED FAT: 10g
TRANS FAT: 0g
UNSATURATED FAT: 1g
CHOLESTEROL: 7mg
SODIUM: 47mg
CARBOHYDRATES: 16g
FIBER: 1g
SUGAR: 12g
PROTEIN: 2g
A Big thank you to my great friend Jessica for the ingredients – https://thenovicechefblog.com/about/
#GetSOM Via @DJGojabean @StraightOfficialMag #Coquito #PuertoRicanEggNog #HolidayBeverages